Macarons from Cake House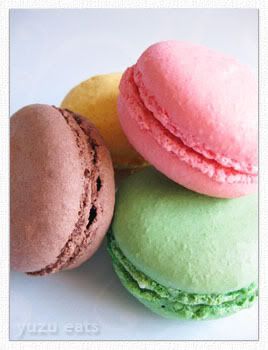 ©2008 Yuzu Eats
A couple of workmates and I went to lunch on Sawtelle Boulevard in West L.A., where there is an abundance of Japanese restaurants and stores carrying cute knickknacks. After spending an hour (or two) browsing the shops, we felt it was time for dessert. So we made our way to Beard Papa. But before crossing the street, I spied some colorful macarons in a bakery window. I rarely get to eat macarons because they're not widely available, and I have to drive far (or fly to New York) to eat some. So I was quite pleased that a Korean bakery named Cake House offered them in their shop. I bought four macarons at $1.50 each — chocolate, lemon, raspberry and green tea — and later enjoyed them with my little niece. Verdict? The chocolate was yummy, as was the green tea (you can really taste the matcha), but the raspberry and lemon ones were rather dry. Perhaps this is because the macarons are not baked on the premises, so who knows how fresh they are when they're sold?

Later that day, I realized there's a Cake House in Buena Park, so much closer to me than the one I visited off of Sawtelle. Apparently, I had been driving past this bakery in Orange County every day, never knowing it existed because it's nestled in a strip mall next to a Ralphs supermarket. One would never expect to find macarons near Ralphs, after all.
The day after I visited the L.A. location, I made a quick trip to the Buena Park Cake House after work and purchased every flavor macaron they had available — coffee, chocolate, raspberry, lemon, green tea and blueberry. I shared them with my mom and dad, who enjoyed them with a cup of hot green tea. The blueberry macaron (which my mom thought would've been taro-flavored) didn't taste much like blueberry. It was more like a plain macaron with blue food coloring. The other flavors tasted the same as they did before. I didn't try the coffee one, as I gave it to my dad, the coffee addict.
I much prefer the Orange County location to the L.A. one because, for one thing, it's much bigger. The shop has tables in the back that you can sit at and hang out with friends. The baked goods, with the exception of the cakes and fancy pastries, are available for customers to just grab and place them in plastic basket trays to bring up to the counter for checkout. I'm glad I got to try the various macarons Cake House has to offer, but they sure don't beat the yumminess that is
Bouchon Bakery's macaron
.
Cake House
11301 Olympic Blvd.
Los Angeles, CA 90064
(310) 914 0404
Cake House
5410 Beach Blvd.
Buena Park, CA 90621
(714) 522-0101
Labels: cookies, Los Angeles, Orange County, restaurants