Bakery Tour at Disney's California Adventure
On one of several trips to the Magic Kingdom this month, I took some photos of the
Bakery Tour by Boudin® Bakery
at
Disney's California Adventure
theme park. In all the years that I've been going to the Disneyland Resort, I didn't even realize this tour existed.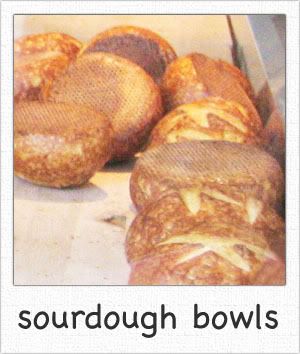 There's a process that Boudin's been using for over 150 years to make their famous sourdough bread. I wasn't really paying attention to the video that was playing overhead as I walked through the tour because I was busy trying to take indoor pictures from behind the glass while munching on the free sourdough bread samples they gave me when I first entered the tour. Isn't it cute how there are Mickey Mouse-shaped heads throughout the bakery? Disney has to leave their mark on everything, after all.


After the sourdough breads are done, they're brought over to the kitchen where someone slices into the tops to turn them into bread bowls. Then they're ready to fill with a variety of delicious soups served up in the theme park. The next time you find yourself in a Disney theme park, you have to try a soup bread bowl (especially the clam chowder bowls served in New Orleans Square at Disneyland). They're quite yummy, and they're definitely a nice break from typical amusement-park food.