Crocheted Cupcakes
I crocheted a couple of cupcakes last week using this
pattern
. They're chocolate-strawberry and red velvet, and they're just slightly smaller than real-life cupcakes. The first cupcake has a vanilla flower on top, and the other has a chocolate flower. I used worsted-weight, 100% wool yarn and Swarovski crystals. They turned out kind'a cute, and I'll probably end up making more. They're really quick to make (save for the sewing parts).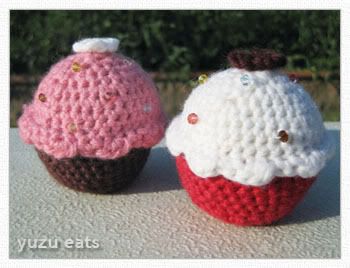 ©2008 Yuzu Eats
I just finished reading a young-adult mystery novel called
The Mystery of the Third Lucretia
, which I really enjoyed. It takes you through the streets of London, Paris and Amsterdam along with two teenage girls who uncover, well, a mystery. ;P If you like Dutch art, European travel, or books about friendship and mother/daughter relationships, this is a good read. I also liked reading about the food the girls eat while dining out in Europe.