Bouchon Bakery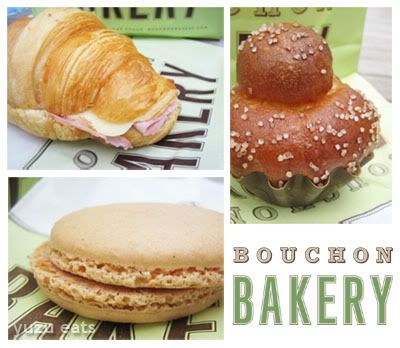 ©2007 Yuzu Eats
When you grab a bite to eat at a shopping mall, you probably think Panda Express, Sbarro, Steak Escape, Hot Dog on a Stick and Cinnabon, right? That's not the case when you're shopping (or window-shopping) at the
Shops at Columbus Circle
, located inside the Time Warner Center in New York City. But then it's not like the malls most of us are used to, as the building complex is also the home of luxury condominiums, the Mandarin Oriental Hotel and the worldwide headquarters of Time Warner. After attending Sunday Mass at a Catholic Church in the Upper West Side last weekend, I strolled down Columbus Avenue and made my way down to Columbus Circle. I went inside a few stores and looked around. But it wasn't until I hit up
J.Crew
that I was finally able to buy a couple things that wouldn't break the bank. Hooray for "30% off" signage! I was feeling rather hungry after my non-shopping, so I went up to the third floor to check out the Bouchon Bakery, a restaurant I had read about but had never tried.
The express counter had more customers than the actual restaurant.


On a late Sunday morning, you can expect that this place wasn't very crowded. A few couples sat at tables; some families partook in a boulangerie-style Sunday brunch. Since I was dining solo, I opted for the express counter, which serves up delightful sandwiches and a nice selection of freshly baked French pastries. I wanted to try the ham & cheese on a baguette, but someone snatched the last one, and it was going to be at least eight minutes until they brought out some more. So I went with my second choice, a ham & cheese croissant (yes, I do likes me some ham & cheese sammies). I also bought a brioche à tête and a vanilla macaron for dessert.

It was a gorgeous day outside, so I took my food and ate it outside near the fountain surrounding Gaetano Russo's sculpture of Christopher Columbus, right smack in the middle of Columbus Circle. There were quite a few individuals sitting out on the benches, munching away on lunch and listening to their iPod®s or reading a book. I ate my ham & cheese croissant as I perused a Williams-Sonoma catalog. The croissant was perfectly flaky and buttery. The cheese was a bit rich, but it was still yummy. I didn't dig into the macaron until later that day after watching Monty Python's Spamalot down at the Shubert Theatre. It was a nice after-theatre snack. I could really taste the almond flavor in it. The 2½" macaron was chewy, and the filling was rich and buttery. A few hours later, I ate the brioche before catching the evening show of Spring Awakening at the Eugene O'Neill Theatre. It tasted okay, but seemed a bit dry. Perhaps because I waited too long to eat it.



I'd recommend the Bouchon Bakery if you're not against spending around $7–10 for a simple sandwich (or more if you get something fancier). The atmosphere is a nice balance between upscale and casual [mall] dining. If your tummy's not in the mood for a meal, I think this place is worth at least a walk-by of the dessert counter. The way the treats are displayed so prettily will probably make you hungry.
Bouchon Bakery (inside Time Warner Center)
10 Columbus Circle
New York, NY 10019
(212) 823-9366
Labels: bread, New York, restaurants