Felt Macaron Plushies
Motivated by my fascination with macarons, I had the need to make some of my own last month. Not edible ones, of course. Just macarons sewn by hand. :) I used sheets of acrylic felt, of which I have an abundance, to make the food plushies. Below are raspberry, original (almond) and chocolate flavors. Their sizes are true to life.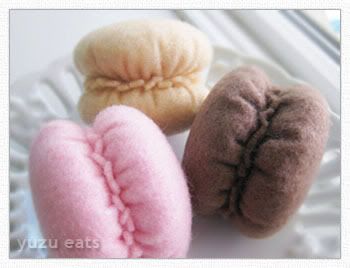 ©2008 Yuzu Eats
It's officially autumn now, but the weather is much like that of midsummer. This week we're having temps of 80-100ºF (25-40ºC). As much as I love the longer days of summertime, I'm done with the heat. I want it to get cold already! I feel like baking pumpkin bread or something autumny like that.