Tiny Thai for the Solo Diner
I have been craving Thai food lately. So much so that I made the mistake of ordering the Thai chicken pasta at
The Cheesecake Factory
this past weekend (a peanut-allergy sufferer's worst nightmare). It was like eating a jar of Skippy peanut butter, tossed with linguine, chicken-breast chunks, bean sprouts and a can of crushed peanuts. It wasn't
completely
horrible because I
do
like peanut butter, but I think it's a little heavy on the peanuts. I wish I took a picture of the plate when the server brought it over — peanuts ALL around the edge. A
lot
of them.
From now on, I shall not let my current cravings dictate what I order if I'm not in the right establishment to order that particular food. Stick to what each restaurant does best, that's what I learned. Funnily enough, I already knew this a few months ago when I was in New York City and was craving Thai curry..
Dim lighting = blurry photo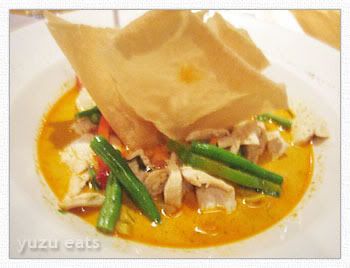 ©2007 Yuzu Eats
That right there is probably one of the best meals I've ever eaten. I don't know if it was because I was 3,000 miles away from home, and the stewy dish was comforting to me. But gosh...chicken panang curry from
Tiny Thai Cafe
, you were delicious. It was sweet, slightly spicy, and light...all at the same time. The chicken breast was tender and absorbed the flavor of the curry very nicely. The curry juices mixed with steamed Jasmine rice — yum! I think coconut milk should be used in
every
dish. ;)
Original image from Tiny Thai
The restaurant, which is located in Manhattan's famous Hell's Kitchen, was difficult for me to spot at first. I must've walked by it two or three times before realizing it was there. The front of the restaurant is
that
small. Once inside, I was warmly greeted and seated at a table for two (for my party of one). I placed my order and was served my meal with a minimal wait. I ate dinner here before seeing a Broadway show (hooray for multiple viewings of
Rent
!). The restaurant is just far enough from the craziness of Times Square to not have the Broadway crowds, but it's close enough to only have to walk a few blocks to the various theaters. I am definitely going to eat here again when I go back to New York.
Tiny Thai Cafe
693 9th Avenue (between 47th & 48th Sts.)
New York, NY 10036
(212) 265-2229
Notes to the solo diner
:
It's not a bad experience to eat at a restaurant all by yourself. Pick a time of day when a restaurant is less likely to be busy so that your servers will be more attentive to your table of one. And don't sit at the table near the window, because people on the street might point and laugh at you (kidding).
Labels: New York, restaurants