Rice To Riches
©2007 Yuzu Eats
How have I managed to eat at this place several times and not once blogged about it? It's been in my links list since I started this blog. I first happened upon
Rice To Riches
three and a half years ago.
Eatdrink&bemerry
suggested I check the place out because...umm, we're Asian and we like rice. ;P But it's so much
more
than rice — it's all about rice pudding here.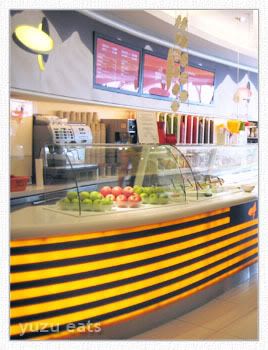 I've eaten here with friends, and I also took my parents here a couple of times. Mom and Dad seem to really like this place because a) their rice pudding is yummy, and b) their public restroom is probably the cleanest non-hotel restroom they've ever seen in New York City. Located right off Mulberry Street in NoLIta, Rice To Riches sticks out like a sore thumb on Spring Street with its futuristic, brushed-metal exterior. Upon entering the store, you see high, white tables shaped like surfboards (or maybe they're supposed to be like rice kernels) and flat-screen televisions displaying colorful, bizarre pop art that mostly has to do with food. I think I recall spotting a doggie on the screen one time, though. Sometimes the TVs display random definitions like "SLEEP: a poor substitute for caffeine."



The ambiance is retro and modern at the same time.


Rice To Riches makes their pudding right in the store, so you can be sure you're getting the freshest rice pudding available. Their flavors carry some interesting names that almost seem to give them their own personalities. Take, for instance, Stubborn Banana or Forbidden Apple. Or maybe you're in the mood for a Cinnamon Sling, Almond Shmalmond, Coconut Coma, Don' Cappuccino or perhaps even Sex, Drugs 'n' Rocky Road. Their puddings can be topped with anything from 'blessings' (toasted coconut) to 'mischief' (graham cracker crumbs). Pudding flavors and toppings vary throughout the year. My dad had a yummy mango pudding last year, but it wasn't there when I went a few weeks ago.



I'm so predictable — I get Understanding Vanilla every time.
It understands how boring I can sometimes be with flavor choices.

It's been a lot of restaurants' and stores' goals lately to be certified green. Using less plastic, more recycled paper and generating less waste in general is what many businesses are doing to help the environment. I've read complaints that the plastic containers in which Rice To Riches serves their rice pudding are not good for the environment. Nay, I say! Why throw away those containers after you're done stuffing your face with rice pudding? From the very first time I went to Rice To Riches, I vowed to save every container I've ever used. The second and third (and fourth) times I ate there, I asked for containers in specific colors because I wanted to complete my collection. I only have the 'solo' sizes, though...not the 'sumo' ones. =O



Their containers are really cute and quite durable, so
I save them and reuse 'em to carry snacks in my bag.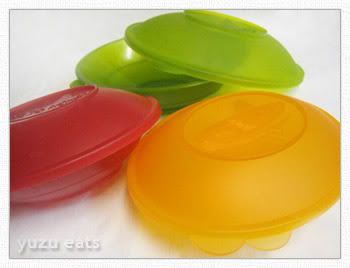 A word of caution: if you are watching your carb intake, it's best to steer clear of Rice To Riches. This place prides itself on being carb-heavy. There's a sign hanging over the cash register that says, "We sell rice pudding. If you don't want that you can have rice pudding. And if you don't want that you can have rice pudding." Rice pudding is pretty much all you get here. And that is totally fine with me.
Rice To Riches
37 Spring Street (at Mulberry)
New York, NY 10012-5723
(212) 274-0008
Labels: New York, restaurants