La Creperie Café
A great place to dine at on a sunny afternoon is
La Creperie Café
in Belmont Shore. It's a French café that serves up a variety of delectable savory and sweet crêpes, as well as pastas, salads and sandwiches.
The front of the restaurant on Second Street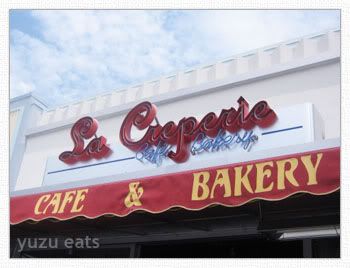 The east-facing wall inside the restaurant



A fake window on the west-facing wall inside



Heh...a crazy bicycle stuck on the wall

I always order a crêpe when I eat here. Their pastas and sandwiches are equally tasty, but I think at least one person at the table should order a crêpe, and that person usually ends up being me. Be sure to order a basket of garlic fries to share at the table — they are
so
yummy, with chopped parsley and real chunks of garlic to satisfy the taste buds.
You cannot have a meal here without the fries!



Au Bon Curry Crêpe
Curry, coconut milk, chicken breast and cilantro cream sauce,
topped with sour cream & mango chutney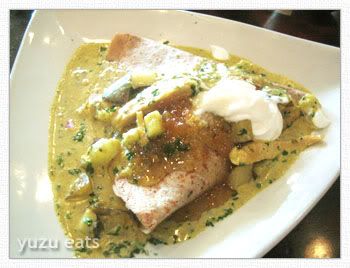 ©2007 Yuzu Eats
The chicken breast pieces in the crêpe were a good size; actually, they were quite filling. The curry itself was tasty, but I could've done without the mango chutney. Don't get me wrong — I love mango stuff — but I felt that its sweetness tended to overpower the flavor of the curry. When I order a curry dish, I expect to mostly taste the curry. But, in this case, I tasted a whole lotta mango, and only a little bit of coconut milk and curry flavor. About halfway through eating the crêpe, I scraped the mango chutney off of it so that I could enjoy the curry. Not sure about the sour cream on top either. I enjoy sour cream with Mexican dishes, but I've never before had sour cream with curry. It's not an entirely bad combination ('cause it's hard for me to say no to sour cream) — it just caught me by surprise, that's all.
The restaurant is relatively small, so expect a long wait. I've been seated immediately on a week night, but on weekends I've waited up to over an hour to get a table. Weekdays are generally less crowded, especially in the middle of the day when you can also take advantage of their smaller-sized lunch portions at lower prices. If you choose to dine outside, feel free to bring your dog. The major downside about eating outside is inhaling the secondhand smoke of diners who have cigarettes with their meal.
La Crêperie Café
4911 E. Second St. (between Argonne and St. Joseph)
Long Beach, CA 90803
(562) 434-8499
Labels: Los Angeles, restaurants