Mac 'N' Cheese Soup
I left work after only a few hours today because I was feeling kind'a queasy all morning. I hadn't eaten anything for breakfast because I just wasn't feeling hungry, but I munched on half a muffin while I was at work. As soon as I got home I started making myself some soup. I normally make chicken noodle soup when I feel crappy, but I wanted something else. Something that's been a comfort food since I was a kid — mac 'n' cheese! I made a bit of a grown-up version in the form of a veggie mac 'n' cheese soup.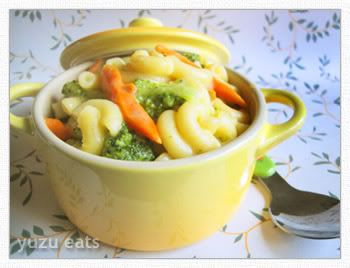 ©2007 Yuzu Eats
If you're interested in a 'soupy' soup, this one isn't it. It's got a creamy texture, so it's kind of a cross between macaroni soup and traditional baked mac 'n' cheese.
Mac 'N' Cheese Soup
1 can (14 oz.) reduced-sodium chicken broth
¾ cup small elbow macaroni
1 cup broccoli florets, chopped
1 large carrot, peeled and sliced
1 tbsp. all-purpose flour
¾ cup nonfat milk
½ cup shredded cheddar cheese
ground black pepper (optional)

In a medium saucepan on high heat, bring chicken broth to a boil. Add macaroni, stir and let simmer over medium heat for approximately 5 minutes. Add broccoli and carrots and cook another 5 minutes.

Mix flour and milk together in a bowl until it's well combined. Slowly add it to the macaroni mixture, stirring until it's got a relatively thick consistency. Add small amounts of cheese at a time, stirring it around until it's melted, until all the cheese has been added. Season with ground black pepper if desired.

Serves two.
I ate the soup out of my Le Creuset petit casserole