Mmm...Cream Puffs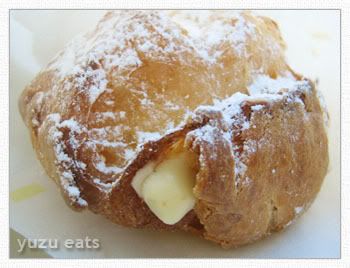 ©2007 Yuzu Eats
For the most part, I will avoid going to Hollywood — or anywhere in the city of Los Angeles — if I can help it. But two weeks ago my aunt was in town, and my family and I took her around local places so she could see some sights. One of our stops was Hollywood & Highland.

The most exciting thing at Hollywood & Highland (for me, at least) was seeing the hand-, wand- and footprints of the Harry Potter trio in front of Grauman's Chinese Theatre. After I put my hands on the cement blocks there, we strolled down to the shopping area and — lo and behold — I spotted Beard Papa. I completely forgot one was located here! ::slaps forehead::
It's so clean and new-looking still. :)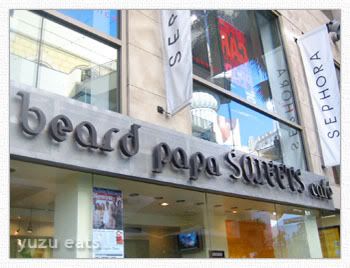 My dad ordered half a dozen, and we ate them while warm — delicious!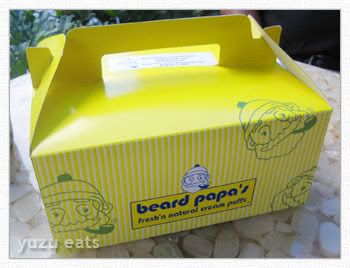 I ordered a green tea latte with tapioca, which was refreshing on such a hot day.


My parents and aunt were asking me, "Why is it called Beard Papa?" To which I replied, "The logo has a picture of an old man with a beard." ;P Frankly, I think he looks like a cartoon version of the Gorton's Fisherman.


I generally don't eat at places that have been hyped up on food blogs or TV programs (did you see Pinkberry featured on MTV's
The Hills
this week? I still haven't eaten there). But I've been wanting to try these cream puffs for a long time. I wasn't disappointed, I'm happy to say. They're so fresh, straight from the oven and pumped full of custard right before your eyes. There was a green tea-flavored cream puff on special the day we went, but unfortunately I didn't try it. :( Sounds like it would've been good, though.
Beard Papa Sweets Café
6801 Hollywood Blvd., Suite 153
Hollywood, CA 90028
(323) 462-6100
Labels: Los Angeles, restaurants