B.T. McElrath Chocolatier
Do you sometimes take photos of something you ate, with the intention of blogging about it, only to eventually forget to include it on your food blog? Happens to me all the time. I'd forgotten that I took these pictures last July (eeks!).

My brother-in-law brought home a few pieces of fine chocolate from B.T. McElrath chocolatier when he went to San Francisco. I'd never before tried anything made my Mr. Brian McElrath, but I was immediately in awe of his beautiful chocolate designs. Seriously, this chocolate is so pretty, it's almost a crime to destroy it by consumption. Below are the pieces I tried out.


Chile-Limón


milk chocolate truffle with chili and lemon


©2007 Yuzu Eats
Orange Blossom


dark chocolate flower-shaped truffle filled with orange ganache





Cherry Snapper


Michigan cherries surrounded by 34% cacao milk chocolate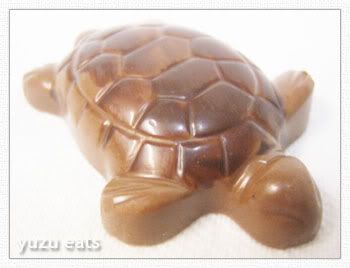 I love that turtle! It makes me not want to eat plain, square-shaped chocolates ever again! Okay, not really. All the chocolates were quite delicious, though. The Chile-Limón truffle — you can mostly taste the limón, but the chili kicks in as you're swallowing the chocolate. The Orange Blossom — this was my favorite, with its oh-so-yummy orange ganache filling. I ♥ the combination of chocolate and citrus. The Cherry Snapper — well, I think this one needs a new name because the turtle shape is really the highlight of this piece. Not that the chocolate was bad, but c'mon...it's a turtle, and it's so cute! 'Cherry Turtles' is a better name, methinks.

B.T. McElrath Chocolates at Andronico's
1200 Irving St.
San Francisco, CA 94122
(415) 661-3220