Bread Balls Stuffed w/Cheese
I baked bread again over the weekend. I never thought baking bread would be addicting, but it's starting to become an obsession for me.
I wanted to bake a snack bread for my family to eat in between lunch and dinner. 'Cause a few hours after lunch passes, everyone's hungry. I decided to make little balls stuffed with fresh mozzarella.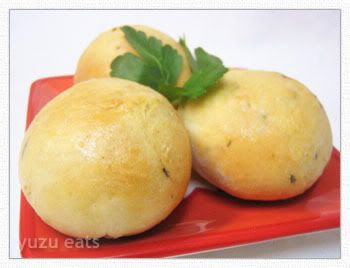 ©2006 Yuzu Eats
The dough getting baked in the oven

These are really easy to make, and they take about an hour from start to finish. Here's the recipe that I came up with.
Mozzarella Balls
2½ cups all-purpose flour
1 package active dry yeast
1 tsp. sugar
1 tsp. kosher salt
½ cup warm water
1/3 cup warm milk
1½ tbsp. butter or margarine
1 generous tsp. minced garlic
1 tsp. dried basil
½ tsp. dried thyme
1 egg
2 tbsp. jarred tomato sauce
1/3 cup fresh mozzarella, chopped into ½" cubes

In a medium bowl, dissolve yeast in warm water (105°F to 115°F). Stir in sugar, salt, warm milk, melted butter and 1½ cups of the flour. Add the basil, thyme and garlic, and incorporate. Stir in the egg. Then stir in the remaining cup of flour.

On a lightly floured cutting board or countertop, knead the dough for 5 minutes until it's smooth. Cover and let rest for 10 minutes.

Preheat the oven to 400°F. Lightly grease a baking sheet with cooking spray. Split the dough into 16 even sections. Do all of the following steps for each section: (1) flatten dough with your hands to make sort of like a mini pizza dough ; (2) put a drop of tomato sauce in the center of the flattened dough and spread it around (be careful not to let it spread to the edges, though); (3) place a few mozzarella cubes in the center; (4) then fold the edges of the flattened dough circle over the center to hold the cheese inside, and pinch it shut.

Place all 16 balls onto the baking sheet (pinched side down), about 2 inches apart. Brush all over with melted butter and pop them in the oven. Bake for approximately 25 minutes (could be slightly less, depending on your oven), or until golden brown.