Share the Melon-Pan Love
Everyone's entitled to a cute, silly post every once in a while, right? As long as it involves food! =) I bought a melon pan for myself the other day, and I left it on the kitchen counter. When I returned, look what I found!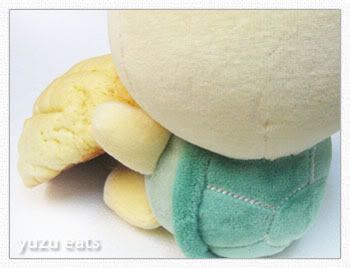 ©2006 Yuzu Eats
Looks like someone was about to enjoy my melon pan!

If you don't know much about melon pan, here are some cool things to know about it:



"Melon pan" gets its name because it resembles, well, a melon!
Namely the muskmelon, or cantaloupe.



The outer (or top) layer is a cookie dough,
and the inner (or bottom) layer is the actual bread.


Melon pan is most often served with an underbaked cookie-dough layer because baking it any longer will result in an overbaked bread portion. That's why melon pan is so light in color, as opposed to a golden-brown color one would associate with finished baked goods. I've tried many varieties of melon pan. Some were green and completely bread-like (no outer cookie layer), while others were filled with green melon-flavored custard. I haven't decided which one I like the best. I kind'a like the whole cookie/bread combo, so that might be my favorite right now. Nothing beats eating a cookie and bread at the same time!



I couldn't resist. I ended up sharing the melon pan with the turtle
and my niece while watching Miracle on 34th Street on AMC. :)