Best Yuzu Sugar Cookies Ever
I've only baked a few desserts so far with yuzus, but this is my favorite thus far. My mom wanted me to bake cookies yesterday, so I searched for a recipe that called for ingredients my parents had in their pantry. ;) I also had a couple yuzus from my yuzu tree that I wanted to use, and I was able to incorporate them into a recipe to make sugar cookies with a nice citrus flavor.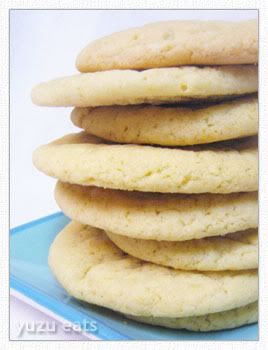 ©2007 Yuzu Eats
I'm very happy the way these cookies turned out, because they weren't too sweet, and the yuzu flavor wasn't overpowering the cookie. The cookies are moist & chewy, with crispy edges. My parents liked them a lot, so that spells success to me! Here's the recipe for anyone who wants to try these out. You can substitute lemon for yuzu, as I know how difficult it is to have actual yuzus on hand.
Best Yuzu Sugar Cookies Ever
3½ cups all-purpose flour
1 tsp. baking soda
¼ tsp. salt
1 3/4 cups granulated sugar, plus more for sprinkling
¼ cup light-brown sugar, packed
zest of 2 yuzus (approx. 1 tbsp.)
2 sticks unsalted butter, softened
2 large eggs
1 tbsp. freshly squeezed yuzu juice

Preheat oven to 350ºF. Sift flour, baking soda and salt in a medium bowl. Using a freestanding mixer fitted with paddle attachment, mix sugar, brown sugar and zest. Add butter until mixture is light & fluffy. Add the eggs, one at a time, and then the yuzu juice. Slowly add the flour mixture until a soft dough forms. Scoop 1½" balls of dough onto baking sheet. Flatten the balls slightly with the palm of your hand, and sprinkle a bit of granulated sugar on top. Bake for 15 minutes. Remove from the oven and let them sit for about a minute. Then move cookies to cooling rack.

Makes 30 cookies, 3" (7½ cm) in diameter.