The Yuzu Tree Giveth
My blog has been lacking in posts lately because (a) I was on vacation in Chicago for a while, and (b) I've been bitten by a cold bug that's left me too lazy to post anything in the last week. But I return with a yummy yuzu entry! My yuzu tree has been blooming ever so wonderfully, and I picked one of its fruits to make a citrusy dessert which I brought to Thanksgiving dinner a couple weeks ago.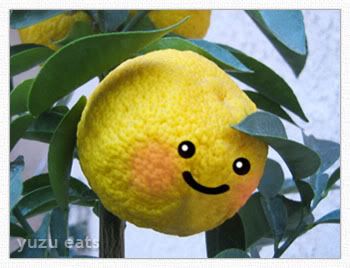 ©2006 Yuzu Eats
I took a simple lemon bar recipe and tweaked it so they'd yield yuzu bars instead. I'm not really a fan of lemon bars, because they taste too eggy to me. But I know other people love lemon bars, so I baked these for them. ♥ This recipe will produce yuzu bars that burst with a lot of citrus flavor. If you prefer a more subtle citrus taste, switch all the 'yuzu' parts in the recipe with lemon and decrease the amount of lemon juice to 6 teaspoons.
Yuzu Bars
Crust:
1 cup unsalted butter, softened
½ cup confectioners' sugar
2 cups flour
pinch of salt

Preheat oven to 350ºF. Combine ingredients and mix well. Press mixture in 9" x 13" greased glass pan. Bake for 15 minutes or until lightly browned.

Filling:
4 eggs, beaten
1/4 cup flour
2 cups granulated sugar
7 tsp. yuzu juice (bottled yuzu juice will suffice as well)
zest of 1 yuzu

Combine flour and sugar; mix in beaten eggs, yuzu juice and zest. Pour onto slightly cooled crust. Bake at 350°F for 25 minutes or until filling is set. Cool and sprinkle with confectioners' sugar.