Pepper-Parmesan Bread
I was home all weekend, recovering from my cold last week. I knitted, tried to get back into crochet again, and watched some movies on the telly. Amidst all the DVD- and movie-watching (I watched the entire BBC series of The Office on DVD, plus some movies on AMC, VH1 and Disney Channel), I decided to bake some bread and make the house smell delicious. I read an easy recipe in Los Angeles Times last week for a pepper-parmesan bread. I ♥ pepper (and cheese, for that matter), so I tried out this bread to see how it'd turn out.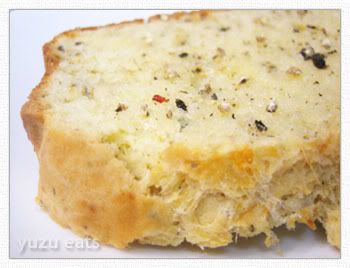 ©2007 Yuzu Eats
The obligatory in-the-oven photo



Look at the nice texture and golden color


I used a peppercorn medley (black, green, white and pink peppercorns) instead of just the plain black ones. Some people might find the pepper taste in this bread too strong, but I think it had a nice kick to it. If you want, you could probably lessen the amount of pepper if you want a more subtle taste.
Pepper-Parmesan Bread (from Los Angeles Times)
2 tbsp. melted butter
2 cups flour
1 tbsp. sugar
1 tbsp. baking powder
1 tsp. kosher salt
1 tbsp. plus 1 tsp. freshly ground pepper
1 cup freshly grated Parmigiano-Reggiano
2 large eggs
1 cup whole milk

Preheat oven to 350ºF degrees. Butter 9" x 5" loaf pan and set aside. In a large bowl, combine the flour, sugar, baking powder, salt and pepper, and mix with a whisk until thoroughly combined; make sure the pepper is well distributed. Stir in the cheese. In another bowl, combine the eggs, milk and melted butter, and mix lightly. Pour into the bowl with the dry ingredients and cheese. Mix with a rubber spatula until all the ingredients are well moistened. Scrape the dough into the prepared pan and bake for 1 hour, or until a toothpick inserted into the center comes out clean. Cool slightly before turning out of the pan.
Slice it up and spread some butter on that baby!