Finally a Christmas Update
I hope everyone had a good holiday break. I enjoyed a nice week and a half off, relaxing with family, eating nonstop and sleeping in really late. I meant to update my journal right after Christmas so I can show you what I baked over the holidays, but I took a break from blogging last week. So I'm posting my Christmas goodies now.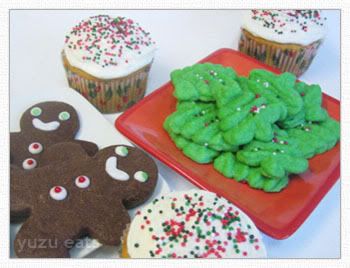 ©2007 Yuzu Eats
These were actually chocolate cookies, not gingerbread



Green Christmas tree sugar cookies



Butter yellow cupcakes with vanilla frosting and festive sprinkles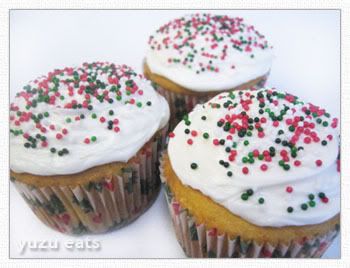 These cupcakes were made with Pillsbury cake mix
which came with Christmas-colored candy bits



I covered them in Pillsbury vanilla frosting topped with fun Christmas shapes


I think I've had enough sweets in the past couple of weeks to last me all through January. But that doesn't mean I won't have an ice-cream cone or a few cookies here and there. ;) Happy new year, everyone!