Mini Cupcakes for the Office
I was in a baking mood again this past weekend, and I decided to try out a recipe that I found in one of Martha Stewart's magazines. Looked like an easy vanilla cupcake recipe. It was my supervisor's birthday, and I thought what better occasion to bring cupcakes to the office than to celebrate a birthday? I went with a simple decoratation — mint green frosting with piped-on pink flowers.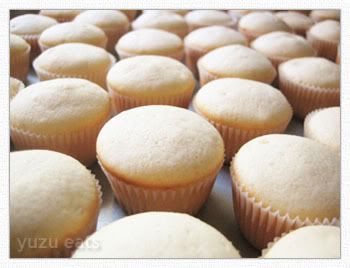 ©2006 Yuzu Eats
The cakes were a teensy bit dry, but they weren't too bad. I have yet to find a perfect vanilla cupcake recipe. These came out pretty, though! I like the fact that the cakes turned out quite uniform, with nice curved tops that sprung back when I pressed on 'em.