Cooking Mama
I'm not much of a gamer. The last gaming system I bought was a
Nintendo Game Boy Advance SP
several years ago. But a new title from
Taito
might push me towards the electronics store to buy myself a
Nintendo DS Lite
. It's a game called
Cooking Mama
, in which you test your cooking skills and get judged/scored by Mama. You use the stylus and touchscreen to prepare meals from start to finish — chop, slice, knead, mash, grate, peel, strain, etc. You can even blow into the mic to cool down food that's too hot! Whoa — what a neat concept! Click on the
full link
to see more screen shots, courtesy of IGN.
Chop the tomatoes!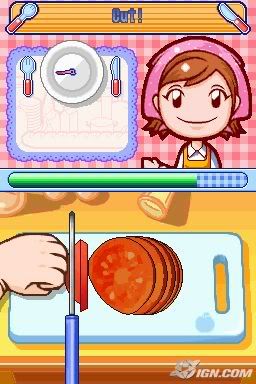 Coat the chicken (or whatever that's supposed to be)!



Knead the dough!

Plate it up and show it to Mama. :)


©Taito
Oh my gosh, this is just too cute for words! You can watch a trailer of the game
here
on You Tube (a longer, Japanese version is also up for viewing
here
). The Japanese version is already available, but the U.S. version won't be available until December 31. In the meantime, I could start setting aside a little bit of money from each paycheck for the "Nintendo DS Lite/Cooking Mama" fund.
Labels: cooking