Frosted Cupcakery
Today my family and I went to Belmont Shore to check out the cupcakes at the new
Frosted Cupcakery
. It's a really cute little bakery right off Second Street. I bought several cupcakes (because I couldn't decide on just one).
A sandwich board sign on Second Street


©2006 Yuzu Eats
Chocolate Banana Nut



Red Velvet



Royal White Chocolate



Chocolate Vanilla (still in the paper holder thingy)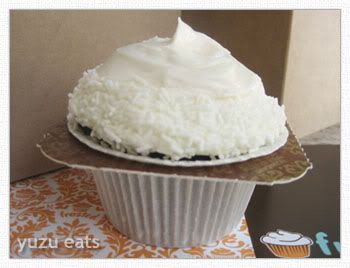 All their cupcakes are priced at $2.75 each. You can buy one dozen for $28 (at a savings of $5). The frostings on these cupcakes are so yummy. Very creamy and just the right amount of sweetness. The cake can be a bit on the dry side (only slightly), but not so much that it detracts from the flavor of the cupcake. Overall, I'd recommend this cute bakery to anyone who's in the mood for a little sweet snack at a decent price. Plus, the owner is super nice 'n' friendly.
Frosted Cupcakery
195 Claremont Ave.
Long Beach, CA 90803
(562) 987-1080
Labels: chocolate, cupcakes, restaurants