Mochi Ice Cream
When the weather gets as hot as it's been recently, I like to cool off with a refreshing ice cream treat. I've been eating some form of ice cream at least once a day for the past couple weeks. Big Sticks, frozen yogurt bars, ice cream sandwiches, gelato — you name it, I've been eating it. One ice cream treat I hadn't eaten in a long time is mochi ice cream. Mochi is a Japanese treat made of glutinous rice. Mochi ice cream is basically ice cream wrapped in a mochi covering. Delicious!

A few days ago my parents had a craving for mochi ice cream. We stopped at the market to buy 20 lbs. of rice ('cause I was all out), and then we swung by the frozen section to pick up two boxes of mochi ice cream, made by Mikawaya.
Strawberry mochi ice cream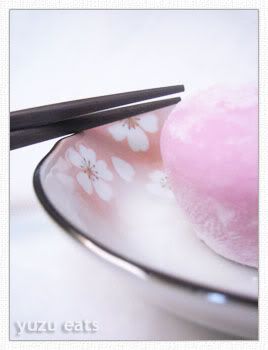 ©2006 Yuzu Eats
This particular brand of mochi ice cream comes in seven different flavors — chocolate, green tea, kona coffee, mango, red bean, strawberry and vanilla. My favorites are strawberry and mango. Each mochi ice cream ball is about 1¾" across, making a decent serving size. It might seem small, but since it's made out of sticky rice, one piece sates my appetite just fine.
Labels: Japanese