Starry Dodgers
I've been fascinated with Jammie Dodgers for quite some time. I just like sandwich cookies, in general. I was in a baking mood last night, so before I went to sleep, I decided to bake some sandwich cookies of my own. And since it was Independence Day in the U.S., and stars and stripes abounded throughout the country, I thought I'd use a star cookie cutter to make the holes in the cookies.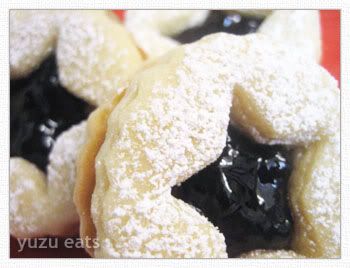 ©2006 Yuzu Eats
A few of the raspberry jam-filled cookies plated
What did I do with the star centers that I cut out?
Made a whole bunch of mini star cookies (they're 1", or 2½ cm, across).
This was my first time making sandwich cookies. I think they turned out pretty. :) I don't have a recipe for this. I just used a basic sugar cookie recipe, rolled out the dough, and used cookie cutters to cut the shapes. I made two dozen circle cookies, and two dozen circle cookies with the star shape cut out. Then I baked 'em at 375°F for 6-8 minutes (removing from the oven just before they turned golden brown). After they cooled, I scooped raspberry jam onto the whole circles, while the circles with the "star holes" in them received a light 'rainfall' of confectioners' sugar. I placed the cookie pieces together and...viola! The mini star dough pieces that were left over, I baked for 5 minutes.