Kitty Loves Cupcakes
This is a rather silly post, but it's food-related...with Hello Kitty. :) I bought some really pretty cupcakes at the bakery last week, and before I ate them (no, not in one sitting...that would be overkill), I snapped some photos of a couple of my little Hello Kitty plush dolls with the cupcakes. Enjoy the pictures. Hopefully they'll put a smile on your face.
Is that a fancy boa Hello Kitty's wearing?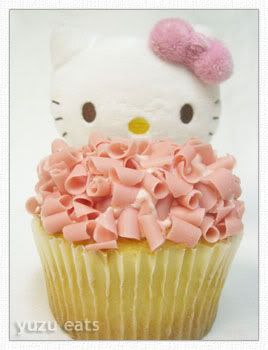 Lemon cupcake with raspberry frosting and white chocolate shavings



Vanilla cupcake with strawberry cream frosting

Kitty loves cuppycakes ♥


©2006 Yuzu Eats
Labels: cupcakes