Ravioli Dolci
It's been mad hot in southern California this past week. Not exactly the kind of weather that's conducive to baking. But I felt like baking anyway. I ended up creating a cookie that my family enjoyed with coffee & tea. :) They're butter cookies that are shaped like ravioli! And they're filled with yumminess too.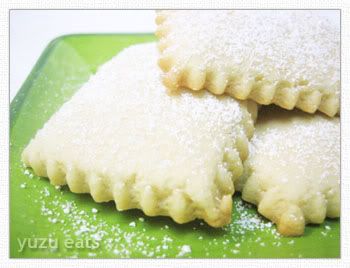 ©2006 Yuzu Eats
The recipe calls for very basic ingredients. The jam can be any flavor you like. The assembly can take some time if you're not used to making rolled cookies. I'm still very much a novice in this area, but the cookies came out decent.
Ravioli Dolci
1½ cups all-purpose flour
¼ tsp. baking powder
1/8 tsp. salt
6 tbsp. unsalted butter, softened
½ cup sugar
1 large egg
1 tsp. vanilla extract
1/8 cup apricot jam (or jam of your choice)

Stir together the flour, baking powder and salt in a small bowl. Using a stand mixer or handheld mixer at medium speed, beat butter and sugar until fluffy. Beat in the egg and vanilla extract. Switch to a lower speed and slowly add the flour mixture until all the ingredients are combined to form a soft dough. Split the dough in half, wrap each in wax paper, and let sit in the refrigerator for at least 1 hour so it becomes a bit firm.

Preheat oven to 375ºF. Lay one piece of dough on a floured surface and use a rolling pin to roll the dough into a 7 x 10½" rectangle. Use a knife to score the dough into 24 1¾" squares (don't actually cut through dough). Place ¼ teaspoon of jam into the center of each square. Take the second piece of dough and, working on top of floured wax paper, roll it into another 7 x 10½" rectangle. Lift the dough rectangle on the wax paper and flip the dough onto the other dough rectangle (with the jam on it). You'll be able to see the little bumps underneath the dough where you scooped the jam. Use a fluted pastry wheel to cut into 24 1¾" squares. You should have what looks like a sheet of uncooked ravioli. Place each 'ravioli' onto two ungreased cookie sheets, at least 1 inch apart. Bake for about 12-15 minutes, or until the fluted edges are light golden brown, but the tops are still fairly light. Remove cookies from cookie sheets and place on cooling rack. Use a sieve to garnish cookies with powdered sugar.