I ♡ Carrot Flowers
I haven't used my Leaflet box in a while, so I decided to break it out and fill it up with delicious food. I made this food for dinner, but there was a small bit left over — the perfect amount to fit into this bento box!


©2006 Yuzu Eats
Breaded chicken tenders with mini carrot
flowers on a bed of fresh basil leaves



Seasoned roasted red potatoes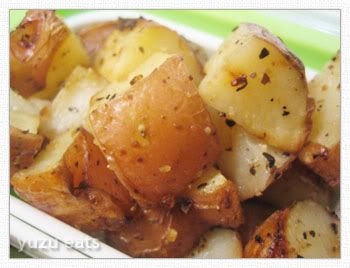 Crunchy green beans seasoned with garlic salt, pepper
and melted butter...with more mini carrot flowers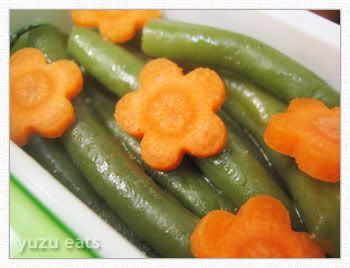 Here are the recipes. As with a lot of the cooking I do, I don't really measure things exactly, so just kind of eyeball it if you try these recipes:
Chicken Tenders
1 lb. chicken breast tenders
¾ cup vegetable oil (I used 100% cholesterol-free canola oil)
1 large egg
kosher salt
freshly ground black pepper
1 to 1½ cups bread crumbs

Heat up a medium-sized skillet on medium-high heat. Add vegetable oil to the hot pan, and let it heat up. Beat egg in a small bowl. Season chicken tenders with kosher salt and freshly ground black pepper. Dip each tender into the egg wash, and then roll each one in bread crumbs, making sure to coat them completely. Place the breaded tenders into the hot oil, cooking each side for about 1-2 minutes. Since chicken tenders are thinly sliced, you don't need to cook them for very long. When they're a deep golden brown, they're done. Drain and serve.


Roasted Potatoes
6 or 7 medium-sized red potatoes
½ cup extra virgin olive oil
cracked black pepper
garlic salt
dried herbs (parsley, basil, oregano)

Preheat the oven to 425ºF.

Rinse the potatoes and chop them into ¾-inch cubes. Drizzle extra virgin olive oil into a baking pan lined with aluminum foil. Place the chopped potatoes into the pan. Sprinkle cracked black pepper, garlic salt and dried herbs over the potatoes, then use your hands to rub the seasoning onto the potatoes, lightly 'tossing' them around the pan so that the other sides get coated with the olive oil. Put 'em in the oven and bake for about 40-50 minutes until the edges of the potatoes look nice 'n' brown.


Crunchy Green Beans
½ lb. fresh green beans
freshly ground black pepper
garlic salt
1 tbsp. butter or margarine (optional)

Fill a medium-sized saucepan with water, and bring it to a boil. Snap (or chop) the tips off the green beans. I chopped them in half to fit into my bento box, but I prefer them full-length. Boil them for about 7-8 minutes. Drain immediately and place the beans into a large bowl of cold water. This will stop the cooking process and allow the beans to remain crunchy, yet cooked. After a minute or two, remove from the cold water. The beans should still be slightly warm. Sprinkle some garlic salt and freshly ground black pepper on them. For more flavor, add the butter and let it melt over the beans.