Tilapia Bento
I cooked dinner for the family last night, and it was pretty yummy. =9 There was a teensy bit left over, and my mom said I should bring it to work. So I packed it into a new bento box I bought recently in Little Tokyo. It's a pretty, red two-tiered plastic box with usagi and sakura on it, and it came with its own matching kinchaku.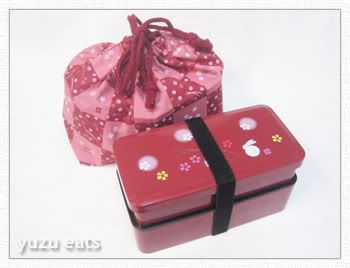 ©2006 Yuzu Eats
I just love two-tiered bento boxes!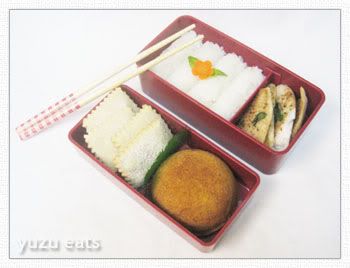 Lemon 'n' basil tilapia filet, steamed rice w/carrot & basil flower garnish



Apricot jam-filled 'ravioli' cookies I baked for last night's dessert



Pandan sponge cake (from the Filipino market)


I've been eating fried tilapia ever since I can remember. It's one of the dishes my parents often cooked when I was a kid, and still cook to this day. Take a couple of whole tilapias and fry them in a pan — heads 'n' all. Crispy and tasty! The tilapia is becoming more popular now, not just in Filipino cuisine. Now I see tilapia filets at standard super markets, and they even serve it at the café at the office sometimes. I baked these tilapia filets instead of frying them. I seasoned them with kosher salt, freshly ground black pepper, fresh basil leaves and freshly squeezed lemon juice. And I added some butter to the tops so they'd stay moist in the oven.

The recipe to the ravioli cookies can be found here.