Mother's Day Italian
I hope you mothers out there had a fabulous Mother's Day yesterday. We went to church in the morning, ate Japanese food for lunch, shopped at the mall, and then I cooked dinner for everyone. I'm really digging on Italian grub (as you can tell from my last post), so I made some more Italian food for Mother's Day.
Look at these vine-ripe tomatoes – gorgeous!

Chicken Parmesan served with lemon spaghetti
and fresh greens w/balsamic vinaigrette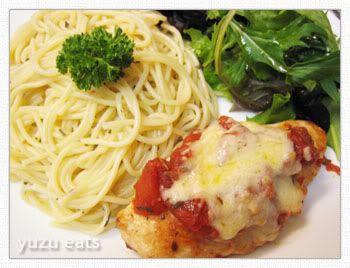 ©2006 Yuzu Eats
I know chicken Parmesan is usually breaded, but...I don't know how to do that. ;P And this way seemed healthier for some reason. The recipes can be found
here
at my Live Journal.