Bento Flags
I haven't posted any bento entries in over a week, but I'm back with another bento. Hooray! This one is lacking in food ingredients (it's just coconut shrimp and steamed rice), so I made up for it with cute embellishments.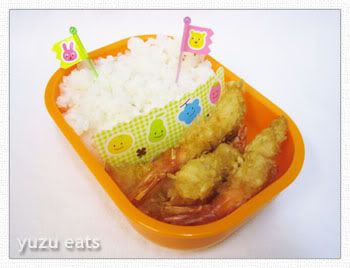 This is the kinchaku I carried my bento in


©2006 Yuzu Eats
You're probably wondering if I cooked those coconut shrimp myself. The answer is no. My parents bought a box of them at
Costco
(love that store!). You just have to pop them in the oven for a while, and they're done! So delicious.
Labels: bento