Cappuccino
A cappuccino is an espresso coffee that's topped with a combination of foamed and steamed milk. I don't drink cappuccinos, but I sure do like the way they look.
I went out to a long lunch today with my boss, supervisor and several workmates at
Hal's Bar & Grill
in Venice. One of them ordered a cappuccino after we finished eating lunch, and I couldn't resist taking a picture of it.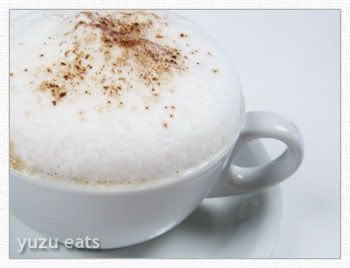 ©2006 Yuzu Eats
Hal's Bar & Grill
1349 Abbot Kinney Blvd.
Venice, CA 90292
(310) 396-3105
Labels: Los Angeles, restaurants