Shrimp Calzones
I'd never made calzones before, so I thought I'd give 'em a try. I was a bit nervous about making pizza dough. I think the last time I attempted to make bread was when I was in elementary school, and we had to bake bread with different types of yeast for a science project. If I recall correctly, the bread didn't turn out so well. I'm happy to report that this time the result was much better.
The pizza dough as I kneaded it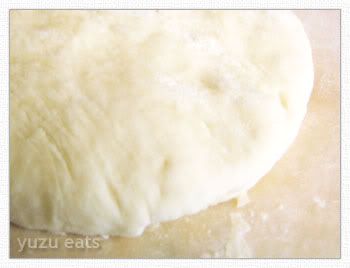 The pinched edges on the calzones came out kind'a nice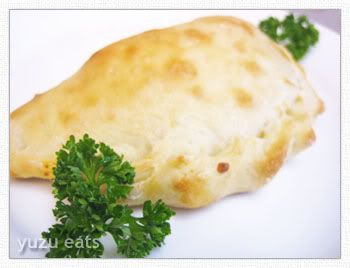 ©2006 Yuzu Eats
The inside was stuffed with shrimp in a homemade white-wine tomato sauce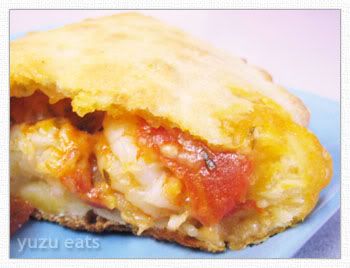 Here is the pizza dough recipe, which I borrowed from
Giada De Laurentiis
:
½ cup warm water (105-110ºF)
2 tsp. active dry yeast
2 cups all-purpose flour, plus more for kneading
1 tsp. salt
3 tbsp. olive oil, plus more for bowl

Mix the warm water and yeast in a small bowl to blend. Let stand until the yeast dissolves, about 5 minutes. Mix the flour and salt to blend, then blend in the oil. Add the yeast mixture and blend until a dough forms. Turn the dough out onto lightly floured surface and knead until smooth, about 1 minute. Transfer the dough to a large oiled bowl and turn the dough to coat with the oil. Cover the bowl with plastic wrap and set aside in a warm area, away from drafts, until the dough doubles in volume (about 1 hour). Punch down the dough and form into ball. The dough can be used immediately or stored airtight in the refrigerator for 1 day.
I served these to my family for lunch, and they liked them. I think that's the best part of cooking — seeing others enjoy what you made for them. :) Gives me the warm fuzzies.