Obento
The obento has been a Japanese tradition for centuries. As its basic, obento means "boxed lunch." Busy working people can buy ready-made bentos at the train station, or you can order a bento for lunch at a Japanese restaurant. My favorite type of bento, however, is the one packed at home inside plastic tiered boxes. You've probably seen this type of bento in a lot of Japanese animated films, such as Tonari No Totoro, an example of which is shown below.



Screen capture by Yuzu
© Studio Ghibli Inc.
The bulk of the bento is made up of rice. Add to that some meat and vegetables, and you've got yourself a complete bento. I also like to add something sweet to some of my bentos for dessert. I have a bunch of bento boxes, one of which is shown below. It's one of my larger bento boxes, and it's made by Hakoya, maker of high-quality bento boxes.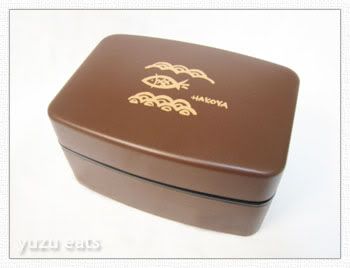 ©2006 Yuzu Eats


The bento pictured above is a light and healthy lunch I packed for myself that consists of three flower-shaped onigiri, fish-shaped soy-sauce bottle, with ripe strawberries and miniature purin for dessert. The onigiri I made for this meal were very plain. Just nishiki rice mixed with furikake. Bentos should be nutritious and pleasing to the eye. It's a general rule that your bento should always have three colors — red, yellow and green — to keep everything balanced. I think I followed that rule here (you can't see it, but the purin is yellow). Here's looking forward to many more bento posts on this blog!
Labels: bento