Zuppa Toscana
My dad made Zuppa Toscana for dinner last night. We'd never had this soup at home (usually at Italian restaurants). I like my dad's better than the restaurant kind. =) It was so super-yummy, I had a giant bowl of it!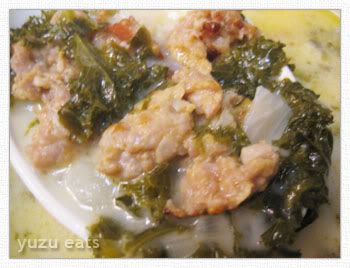 ©2005 Yuzu Eats
Zuppa Toscana
16 oz. (1 pkg.) spicy or smoked sausage
2 potatoes (cut into ¼-inch cubes)
¾ cup chopped onion
6 slices of bacon
1½ teaspoons minced garlic
2 cups kale – washed, dried and shredded
2 tbsp. chicken soup base
1 qt. water
1/3 cup heavy whipping cream

Preheat oven to 300ºF (150º C). Place sausage links onto a sheet pan and bake for 25 minutes, or until done. Cut links in half lengthwise, then cut at an angle into ½-inch slices. Place onions and bacon slices in a large saucepan, and cook over medium heat until onions are almost clear. Remove bacon and crumble. Set aside. Add garlic to the onions, and cook for 1 additional minute. Add chicken-soup base, water and potatoes. Simmer for about 15 minutes. Add crumbled bacon, sausage, kale and heavy whipping cream. Simmer for several minutes.