Let's Split A Brownie
During my lunch break today, I ate at
Panera Bread®
with a friend. I really like their soups. And, of course, their bread. I usually order the broccoli cheddar soup. It comes with a piece of freshly baked baguette. Sometimes I order it in a bread bowl...mmm! My friend and I felt like having something sweet with our meals, so we ordered a brownie and split it.
Very Chocolate Brownie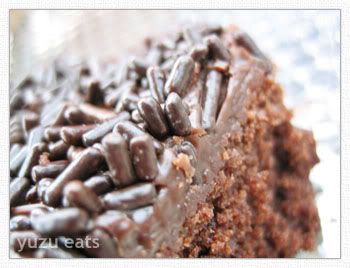 ©2005 Yuzu Eats
Rich and dense, this brownie looks a bit like a slice of cake. Rather than serving brownies in the usual square shape, Panera bakes their brownies in a circular pan and slices them up in triangles. The Very Chocolate Brownie is so yummy, topped with chocolate icing and decorated with chocolate jimmies. I don't usually like chocolate-on-chocolate action, but this brownie is an exception.
Panera Bread®
8647 South Sepulveda Blvd.
Los Angeles, CA 90045
(310) 641-9200
Labels: chocolate, Los Angeles, restaurants