Yummy Yuzu
My dad and I went out for Japanese food last night at
Kabuki
. I've always liked the food there. Tasty and affordable. I took pictures of all the sushi we ate, but here are just a couple of pics of some dishes I found noteworthy.
Watercress yuzu salad (Julienne romaine lettuce, watercress,
daikon, cucumber, endive, sesame seed and yuzu dressing)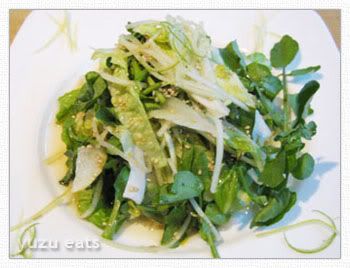 First time I tried Japanese snapper - it was delicious!


©2005 Yuzu Eats
Kabuki Japanese Restaurant
11431 South St.
Cerritos, CA 90703
(562) 467-8003
Labels: Orange County, restaurants